Solving the Six Most Common Challenges to Trade Show Success
July 4, 2019

We know—you're thinking there can't be one solution to solving the six most common challenges to trade show success. In fact, there are many different strategies one can use to improve ROI at trade shows and in-person events. But they all boil down to one mindset.
Mastering this mindset will not only help you solve your greatest challenges, it will fundamentally change the way you approach marketing.
That mindset—thinking like a fisherman.
Don't worry, we'll explain. But first, let's review these challenges.
The six most common challenges to trade show success
With 75+ years of experience in trade shows and in-person events, we're well aware of the barriers to maximizing trade show ROI. In fact, we see these same challenges across a wide variety of marketing efforts.
Here they are, in order of when they typically take place:
1. Lack of a clear target focus

Many companies select and attend trade shows without a clear picture of precisely whom they're aiming to target with their marketing efforts. They have not developed clear and accurate buyer personas.
2. Misguided or missing strategy 

While everyone hopes for big wins at trade shows, this isn't Monte Carlo. Too many companies push all their resources into one big event and hope for success instead of investing time and resources into a solid annual strategy.
3. Poor alignment
Large investments in marketing resources are wasted when companies fail to align these modes with each other and with specific outcomes in the target market.
4. Communication and methodologies that are not localized

Small differences in language, culture and time zone can make a big difference when trying to connect with prospects in a foreign market.
5. Placing salespeople in the booth 

Though seemingly counterintuitive, we've got strong evidence to prove that salespeople have a higher purpose at trade shows and in-person events and can deliver much better results when placed outside the booth. Also, the booth will be much more productive, when salespeople are removed.
6. Poor follow-up

Too much potential energy is squandered by no or a poorly executed follow-up strategy. Unfortunately, a companies lack of professional post-event communication leaves many high-quality opportunities on the sidelines.
For more details on each of these challenges and tips for achieving trade show success, check out our Special Report: How to Maximize ROI with a Trade Show Strategy Plan.
What can we learn from fishermen?
When a fisherman decides to go fishing, there are three basic decisions he/she makes:
Which fish is he/she going to catch
Where is he/she going to find them
What bait is he/she going to use to attract them
With 34,000 species of fish in all the lakes, rivers and oceans in the world, it is no small feat to make these decisions. In fact, many fishermen will determine not only the species but the sub-species they're aiming to catch.
The takeaway: fishermen are highly specific when setting goals.
The mindset that anyone aiming to scale through trade shows and in-person events can learn from fishermen is how to target their efforts towards one very specific goal—reeling in clearly defined, high-quality prospects.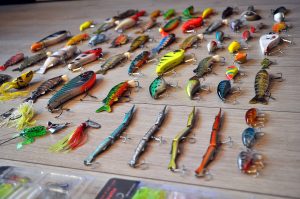 The trick to employing this mindset is learning how to eliminate the 33,999 fish (or trade show attendees) you don't want to catch and aligning every aspect of your strategy with the target species (or buyer persona).
Effective alignment requires testing
In fishing terms, deciding on the species you want to catch leads to a set of hypotheses about which body of water you suspect this fish inhabits, at which depth, and using which bait.
Effectively aligning your strategy for reeling in prospects starts with a similar set of hypotheses, each of which must be tested. That means testing different booth offers, different messaging and different shows. You'll know you've achieved ultimate alignment when only high-quality prospects self-identify to engage with your team.
This level of alignment, achieved through rapid A/B testing, will help you create more measurable, and ultimately, more successful and repeatable results. And for companies endeavoring to scale to the U.S. market, creating replicable systems can go a long way.
Curious about how to implement A/B testing in your trade show strategy? Email us today.
Looking for better results from trade shows and in-person events? Thinking like a fisherman can get you there.
For more tips and resources on MEET's approach to effectively entering the U.S. market, check out our latest webinar: SCALE NOW: Entering the U.S. Market through Trade Shows and In-Person Events.
---
About
MEET (meetroi.com) helps international B2B growth companies soft land and scale in the U.S. through trade shows and in-person events. MEET's processes help its clients ramp-up sales quickly and maintain a steady stream of high-quality prospects going forward.  Contact Bill Kenney for a no obligation conversation: bill@meetroi.com or +1 (860) 573-4821