Setting C-suite Appointments like a Boss
September 17, 2019

Setting appointments with CEOs, COOs, CFOs, CIOs, CTOs, CISOs, CMO's and other organizational leaders are the lifeblood of B2B sales. Top sales professionals must battle gatekeepers, voicemail, email filters, their fears, and a variety of other obstacles to get the attention of these executives.

The process is often inefficient and frustrating. Sometimes even demoralizing.

On August 20th we chatted with appointment-setting guru Bob Good of Good Leads to learn more about the common challenges sales leaders face in setting C-suite appointments and how to overcome them.
Good Leads provides executive-level warranted business introductions and B2B business development services for technology-centric firms, professional service entities, and government economic development agencies.
Bob's entire business model is based on a very real problem that all B2B companies face in acquiring new customers: the challenge of setting appointments with C-suite executives who are the gateway to customer acquisition.
As CEO and founder with 25 years of experience, we asked Bob what are some of the challenges that sales professionals face that draws them to Good Leads for support.
Why do B2B firms need help with C-suite introductions?
Bob identified three primary challenges faced by firms in their pursuit of appointments with the C-suite.
Lack of Maturity: For companies that are young and inexperienced, it is difficult for salespeople to relate knowledge with confidence while on the phone.
Call Reluctance: There are salespeople in every company that fear of picking up the phone; those who lack experience feel nervous about reaching out to executives at this level.
Lack of Persistence: Recognizing that it sometimes takes 10-15 calls at different levels within the organization before you get an answer, giving up too soon is a common barrier to success.
The first step to overcoming these challenges is recognizing their frequency. No one likes the feeling of rejection and yet effective salespeople rebound from rejection all the time. The key is to build confidence—in yourself and the company—so that these hurdles are internalized as simply part of the process of setting appointments.
Help your salespeople see persistence and rejection as a part of the process, not personal.
What modes of communication work best for setting appointments with executives?
We asked Bob which modes of communication Good Leads uses to set appointments for its clients. Are phone calls still the way to go?
Bob made clear that, while various modes of communication are utilized for setting C- suite appointments, phone calls still reign supreme.
"While phone calls are our primary mode, we do follow-up via email. We also leverage various modes of customer marketing such as recent ad campaigns to connect with particular buyer personas."
With multiple phone calls come multiple opportunities to leave a voicemail. Is voicemail also a communications tool that can be leveraged?
How to leverage voicemail
Bob recommends leaving one or two voicemails with the appropriate script for each.
"You don't want to barrage people with voicemail. You also don't want to sound like an offshore cold calling company."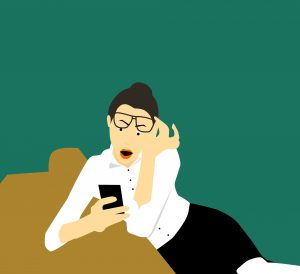 Voicemail should be used strategically as a branding touchpoint. It allows you to build awareness with your target persona as well as others in the organization. Clearly and concisely articulating how you are working to provide a solution to their problem is the best way to entice a callback.
Use voicemail strategically as an opportunity to deliver your unique value proposition.
Preparing your team for success is an investment. We asked Bob about the steps his team takes before reaching out to an executive.
How to prepare for a C-suite call
Bob shared three valuable ways to prepare for a C-suite outreach.
Do your research
Make sure you have some knowledge of them, their company, and a key issue that would be important to them to improve your ability to relate.
Rehearse your script
Rehearse (and even role-play) what you're going to say in different scenarios depending on their response. Winging it rarely makes a good impression.
Relax!
Make sure that your speech is slow and clear. Speaking too quickly often gives the impression that you're nervous due to inexperience or lack of confidence.
C-suite appointments are the bread and butter of B2B sales and marketing. Investing the resources to maximize your return on these efforts will not only deliver revenues and profits but also a happier, more sustained team.
Stay tuned for more from our interview on C-suite appointment setting with CEO Bob Good of Good Leads. To check out all of MEET's webinar content on how to successfully scale your company in the U.S. market, subscribe to our YouTube Channel.
---
About
MEET (meetroi.com) helps international B2B growth companies soft-land and scale in the U.S. through trade shows and in-person events. MEET's processes help its clients ramp-up sales quickly and maintain a steady stream of high-quality prospects going forward. Contact Bill Kenney for a no-obligation conversation: bill@meetroi.com or +1 (860) 573-4821.