Maximize Your Trade Show ROI by Running Through the Finish Line
May 15, 2019
Trainers and experienced athletes will always say, "It's not enough to complete the race—you need to run through the finish line." After months of hard work and training, it might seem obvious that you'd do everything to maximize your results.
The reality, particularly for less experienced runners, is quite the opposite. With the finish line in sight, many athletes begin to ease up and succumb to an "I've already won" or  "it's good enough" attitude.
The results of this behavior are nothing less than disappointing.
See this often repeated example of a runner slowing early and losing a race.
The key to maximizing trade show ROI
When approaching trade shows and in-person events, particularly high ROI opportunities like industry matchmaking events, it is critical that your team not only makes it to the end but runs through the finish line.
At MEET, we talk a lot about the importance of advance preparation for trade show events. We refer to it as "winning the race before it begins," which is to say that your best indicator of ROI will be the amount of preparation time and resources you invest before your team ever hits the trade show floor.
Also fundamental to maximizing ROI is finishing strong and committing similar time and resources to effective follow-up, which includes analyzing your results and prioritizing your post-event strategy.
A prime example of opportunity lost
Also known as brokerage events or business speed-dating, industry matchmaking events are uniquely profitable opportunities for B2B companies to achieve sales partnerships. For international companies scaling to the U.S. market, one sale at a venue like this has the power to fundamentally change a companies market position and trajectory.
And yet, we have watched companies not only slow down before the finish line but leave early, thereby squandering and failing to realize the events full potential energy.
The truth is, at every trade show and in-person event, we see exhibitors and participants leaving early.
This creates two major issues, the first of which are the potential lost opportunities for meetings. Quite often the best connections happen at the end of events as it can take multiple "impressions" for the most valuable prospects to opt-in. The second has to do with the follow-up strategy. When a team disperses without clear action items and next steps, their ability to maximize ROI is impacted exponentially.
What a difference a day makes
At MEET, we help international B2B growth companies soft land and scale in the U.S. through trade shows and in-person events. With 75+ years of experience in the field, we've seen companies make a lot of mistakes that impact their ROI. Fortunately, we've also developed a system of best practices to overcome them.
One best practice that we would equate with running through the finish line in a big race is keeping your team at the event site for a full day after it is over to accomplish the following four goals: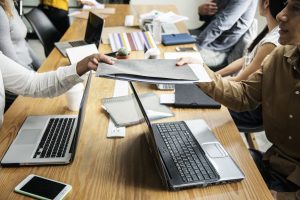 Use a multi-criteria based scorecard to narrow down which opportunities will be targeted;
Discuss and finalize decisions, priorities, and a timeline for follow-up;
Divide up these responsibilities across all team members;
Do the follow-up right there, onsite, before leaving the event city
Appoint one person to be the "expediter" to ensure that everyone does their bit and to report back to the whole on goals achieved by a set date.
Interested in learning more about how to implement a post-event strategy before your team has left the event? Contact us today.
For many firms, events can sometimes feel like a distraction—time away from the office and existing customers, for outcomes that may or may not materialize. At MEET, we believe that when executed effectively, trade shows deliver the most efficient way to get face-to-face with a target prospect.
Failing to fully leverage trade show and in-person event opportunities is a huge waste of time and resources. Our goal is to help you avoid that mistake This is why we recommend maximizing your ROI, in some cases, by keeping your team at the event an extra day.
Events are exhausting, even for the extroverts among us. Too many trade show exhibitors, like too many runners, begin to relax when they see the finish line. They notice the others around them and lose sight of their ultimate goal of achieving their personal best.
Running through the finish and maintaining enough energy to devise and execute the best possible follow-up strategy will not only maximize your team's ROI, but it will also deliver a sense of confidence and achievement that will make you stronger (athletes) overall.
For more on MEET's unique approach to tackling Trade Show ROI, check out our Special Report: How to Maximize ROI with a Trade Show Strategy Plan.
---
About
MEET (meetroi.com) helps international B2B growth companies soft land and scale in the U.S. through trade shows and in-person events. MEET's processes help its clients ramp-up sales quickly and maintain a steady stream of high-quality prospects going forward.  Contact Bill Kenney for a free, no-obligation consultation bill@meetroi.com or +1 (860) 573-4821.