Kelly Kenney on Keeping Open and Staying Focused on the Trade Show Floor
November 13, 2018

We're thrilled to share Part 2 of our discussion with Kelly Kenney, Strategic Partnership and Trade Show Ninja at MEET. Our conversation with Kelly was live-streamed on October 23rd as part of a series we're offering at MEET: Coffee and Conversation.

Join us periodically as we chat live with experts and veterans in trade show, event, and complementary industries to hear their wisdom on common challenges and simple solutions for success.

You can check out Part 1 of our recap here, or feel free to catch the full interview with a fresh cup of coffee here.

We continued our conversation with Kelly by asking about how she approaches booths she's identified as potential customers, recognizing that booths on the trade show floor come in varying sizes.
How do you know whom to target when you approach a booth?
"It's a roll of the dice a lot of times," Kelly replied. However, here are a few tips.
"If it's a bigger booth, typically the further you can get to the center in the better. The perimeter staff members are typically the ones learning how to work a trade show. It's deeper into a booth where you'll find more senior people. That's who you want to get some quality time with."
She followed by explaining that sometimes it's possible to leverage those on the outside of the booth to get an introduction to those on the inside. This is particularly useful if you're not able to identify the right person out of the gate.
In Part 1 of our interview with Kelly, she provided some useful tips for engaging in first-time conversations with potential customers. We followed up by asking how her trade show floor tactics change when approaching at potential B2B partner.
With potential partners, how does your approach differ?
Like everyone at MEET, Kelly devotes a lot of time to pre-show preparation. That means that by the time she is ready to approach a potential partner, she's asking questions to confirm or deny what she already knows based on her research.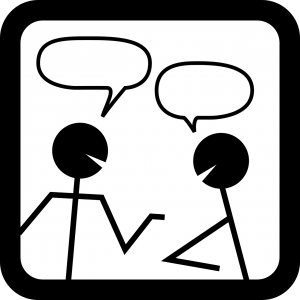 "It's more like an interview. I'm looking to learn more about how they differentiate themselves, who they currently work with, who their key clients are, and what kind of problems they solve. Those four basic elements."
"I need to confirm those four elements so that when I go to the next show I can compare them equally. Because if I talk to a potential partner and walk away noting "wow, that's really cool" but haven't categorized this information, it's very hard to compare one partner to another across different shows."
In summarizing her approach to scoping out potential customers and partners on the trade show floor, Kelly emphasized the importance of remaining open to new information.
"You have to have an open radar when you walk the trade show floor. Even when you've done a ton of research, you need to be open to the fact that once you get talking to people you might find that sudden "Ding! Here's an unexpected opportunity!" moment.
Kelly shared that while she hates to completely bypass a booth, at some shows you just have to. While remaining focused on your learning objectives is critical, remaining open to new knowledge and insights and meeting new people is also an important component of any trade show strategy plan.
---
About
MEET (meetroi.com) helps B2B growth companies and pavilion hosts effectively leverage at trade shows and in-person events. MEET's processes help its clients ramp-up sales quickly and maintain a steady stream of high-quality prospects going forward. Contact Bill Kenney at MEET today for a free trade show participation assessment bill@meetroi.com or +1 (860) 573-4821.