Differentiate your Trade Show Strategy Plan through Follow-up
November 4, 2018

When devising a trade show strategy plan, your primary goal is to maximize ROI. This requires carefully crafting buyer personas, value propositions, and booth offers that, based on extensive research and testing, deliver a consistent flow of high-quality prospects into your sales pipeline.

But let's assume that you're not the only exhibitor out there who has done her homework. What differentiates one trade show strategy plan from the next?
The answer is to follow-up effectively.
Good follow-up starts with the right staffing
If you've tuned into our webinar: 5 Reasons Why Your Salespeople Should Never Be in Your Booth and What to Do About It!, you've heard our argument for why salespeople do not belong in your exhibition booth. Fundamentally, we believe there is a higher, better use of their time at in-person events.
We find that salespeople are often the biggest anti-sponsors of trade shows because, in most scenarios, they are forced to engage all day and sometimes all week with people who are not prospects. Not to mention they're performing a job that is better suited for transaction professionals who have a compelling offer for the target buyer persona.
Upon returning to the office with a stack of business cards, salespeople quickly realize they've wasted their time. These individuals are simply not interested in what they have to sell.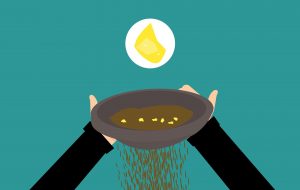 Similar to panning for gold, the goal of the booth is to separate your prospects from the other attendees. An effective trade show consultation strategy puts the right staff in place to quickly and effectively reap as much value as possible from each event.
Don't bite off more than you can chew
We often say that the prospects you get from a trade show spoil like fruit. Even the most perfect apple will turn mealy if not consumed in time.
Many sales teams arrive back to the office after a trade show with hundreds if not thousands of business cards. Irrespective of the fact that the majority of these contacts may not be prospects, most of the time, it is only possible to effectively follow up with the first few hundred.
Putting the work into your trade show strategy plan to bring home only the number of leads you can feasibly follow up within the first few days after an event will not only make your salespeople happier, it will deliver better results.
Differentiate yourself through effective, persistent follow-up
An effective follow-up strategy will differentiate your trade show strategy plan. That's because 80% of sales require 5 follow-up calls after the meeting. 44% of sales reps give up after 1 follow-up. Not necessarily because they're lazy, but because they're too bogged down with stacks of business cards to know who is actually qualified.
Additionally, research shows that 2% of sales are made on the first contact and approximately 80% are made on the 5th – 12th contact.  In essence, following up at all, and ideally following up more than once, will differentiate your trade show strategy plan from the crowd and deliver better ROI time and time again.
Starting with a trade show consultation strategy that helps you define success based on your capacity for follow-up may be the first step. MEET can help.
---
ABOUT
MEET (meetroi.com) helps B2B growth companies and pavilion hosts effectively leverage at trade shows and in-person events. MEET's processes help its clients ramp-up sales quickly and maintain a steady stream of high-quality prospects going forward. Contact Bill Kenney at MEET today for a free trade show participation assessment bill@meetroi.com or +1 (860) 573-4821