Factoring in Display Costs to your Trade Show Strategy Plan
December 12, 2018

Every trade show strategy plan starts with a careful calculation of ROI.  A variety of cost considerations go into this calculation, from event fees and travel, to costs associated with time out of the office and away from existing customers.

A significant portion of any trade show event budget is the cost of the physical booth display. How much you choose to invest in a display is based on a number of factors, including booth size, event frequency, storage, and shipping.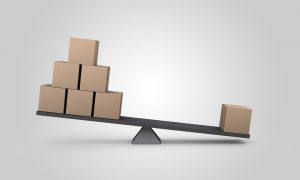 We spoke with Joe Bottone, President of CDS Displays on the topic of booth display costs and the importance of modularity when aiming to maximize ROI in your trade show strategy plan
Top 3 Display Costs
When breaking down the basic costs associated with booth display, Joe identified the top three as shipping, storage, and drayage—a term used to the describe the material handling fee charged by the shows' managers to offload, store and reload exhibit displays.
Drayage is a critical service for exhibitors forced to ship their displays. Joe notes that with rates that can exceed $2 per pound, exhibitors may be forced to spend $12,000 (and in one notable case $1 million) just to move in and out of a venue.
Cost Optimization
We asked Joe whether his clients aim to optimize their booth design within their trade show strategy plan to minimize costs like drayage, storage or shipping.
If they don't, Joe does.
Joe makes it a policy to account for drayage, storage and shipping when designing a booth. He finds that the best way to offer a cost competitive solution is to factor in weight and modularity as they affect shipping and handling fees as well as set-up time.
"I've seen companies send ten crates that take three days to set up and at the end of the show, I don't see much difference between their booth and a booth that I could have shipped in two crates and set up in one day. They just spend $100,000 more than they needed."
Based on the range of optimization options, we asked Joe to define the different types of booths that CDS Displays offers and how they differ in terms of portability, modularity and cost.
5 Types of Booth Display
Ultra-portable Displays
Light-weight, easy to set up, move and store, these displays typically include a lot of fabric and pop-up banner stands that can be used for table tops as well as floor displays. Typically do not accrue shipping or drayage costs.
Portable Displays
Slightly more assembly than ultra-portable displays, easy to set up, move and store. May accrue shipping costs depending on the size of the booth.
Modular Display
Modular displays are portable and can be broken down into components, repurposed and resized for different shows and booth sizes. Do require shipping, however, are a lower risk in terms of replacement cost because each piece is easily substitutable.
Custom Modular Displays
Modular displays with handcrafted elements—archways, doorways, countertops that are customized for each client. Shipping, drayage and storage costs, as well as repair costs, start to increase.
True Custom Displays
Fully customized exhibits that accrue maximum storage, drayage, and repair costs. These exhibits also take the longest to set up, which impacts staffing time and overall trade show ROI.
When factoring in display costs to your trade show strategy plan, Joe recommends the modular or custom modular approach. While impressive in the booth, they are easy to use and re-use at multiple events, ship and pack easily, and have lower repair costs.
Ensuring the lifetime of their displays is one of the many services CDS Displays offers its customers. Following each event, CDS also offers to have every exhibit shipped back to them to ensure that displays are in good working condition for their next use.
Feel free to check out our full interview with Joe Bottone, President of CDS Displays on the topic: Making a Kick-Ass Exhibit: Everything You Need to Know About Developing an Effective Booth.
---
About
MEET (meetroi.com) helps B2B growth companies and pavilion hosts effectively leverage at trade shows and in-person events. MEET's processes help its clients ramp-up sales quickly and maintain a steady stream of high-quality prospects going forward. Contact Bill Kenney at MEET today for a free trade show participation assessment bill@meetroi.com or +1 (860) 573-4821.