Trade Show Strategy: Winning the Race Before it Begins
June 14, 2018
The late Danish sailor Paul Elvstrøm is a member of a very elite group—he is one of six athletes ever to win four consecutive individual gold medals in Olympic history. This in addition to eight world championships has often left aspiring Olympians and sailing aficionados to ask: what made Elvstrøm so successful?
Early in his career, Elvstrøm discovered that the key to winning races was not simply performing well on race day. The key was to develop a strategy. By discovering a technique to more efficiently use his body weight, innovating features of his sailing equipment, and training—relentlessly—Elvstrøm proved that 90% of winning the race took place before it even began. In other words, preparing for the race was more important than sailing it.
At MEET, we believe the Elvstrøm ethos applies perfectly to trade shows. Forty plus years of event experience has taught us that 90% of the success that comes out of trade shows happens as a result of the work that is done before the event ever takes place.
Defining success at a trade show
To understand trade show success, let's begin by considering why companies attend trade shows at all. Most marketing dollars are spent with the hopes of someday getting face-to-face with target prospects. When optimized, trade shows deliver the most efficient approach to this objective by providing the venue and the audience for these transactions. However, identifying quality prospects in volume can be difficult. In the absence of proper preparation, exhibitors are at risk of squandering valuable time and resources and ultimately coming home with a stack of business cards that have no significance for their business.
Exhibitors should have one goal when attending a trade show: to identify and engage high-quality prospects. Achieving success requires strategy, and strategy requires preparation.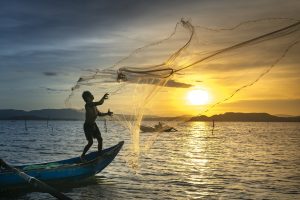 Step 1: Developing your Trade Show Strategy Plan
The first step to developing your trade show strategy plan is to understand your prospect. We've found that many companies expand the concept of a prospect in hopes of capturing more leads. In reality, quality prospects make up a very narrow segment of the market. Just as a wider net does not necessarily catch better fish, broadening the definition of a prospect does not necessarily deliver better leads.
Prospects of today have three key qualities: a bona fide, self-realized need; the resources to satisfy that need; and a sense of urgency—they need a solution today! Without each these three qualities, a lead does not qualify as a prospect. Remember this in 3-words:
Therefore, the first step to developing your trade show strategy plan should be to invest time in profiling your target prospect and aligning your strategies, materials and calls to action to this individual. Knowing your target prospects and possessing the right tools to reach them will not only maximize the value of each trade show experience, it will be the cornerstone of your annual trade show strategy.
Why develop an annual trade show strategy?
Annual trade show strategies create a steady stream of quality prospects throughout the year, eliminating the lulls and spikes that make growth challenging. There's a careful balance between wanting to grow and over-investing in creating leads that you can't follow up on. Thinking from an annual perspective will ensure a steady stream of high-quality prospects while maximizing your investment in each event.
All this takes planning—time invested before you ever hit the trade show floor. For more information about what it takes to develop a trade show strategy and common challenges to achieving trade show success, check out our monthly webinar series.
At MEET, we believe that trade show strategy planning is not for an elite group of exhibitors. When investing time and resources in a trade show, every company should take the necessary steps to maximize their results. Because why not go for gold.
---
About
MEET (meetroi.com) helps B2B growth companies and pavilion hosts effectively leverage at trade shows and in-person events. MEET's processes help its clients ramp-up sales quickly and maintain a steady stream of high-quality prospects going forward. Contact: Bill Kenney at MEET today for a free trade show participation assessment bill@meetroi.com or +1 (860) 573-4821.