Trade Show Marketing Challenge #1: Prospects Don't Wear Name Tags
June 15, 2018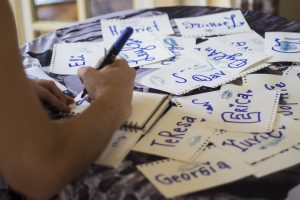 In our previous blog post, Trade Show Strategy: Winning the Race Before it Begins, we talked about the incredible value that can be derived from investing time and resources in preparing for an event. This involves making sure you understand your target prospects and developing an annual strategy to ensure a steady customer pipeline that meets your capacity and growth goals.
Identifying the need for a pre-event strategy is the first step to maximizing your trade show ROI. At MEET, we've identified 8 keys to improving your ROI at trade shows, based on 40+ years of exposure to the most common challenges faced by exhibitors. Understanding how to address these challenges will exponentially multiply your trade show results, ensuring that each event is the best use of your time and resources. In our blog post series, we'll explore each of these challenges and dive deeper into how to avoid common pitfalls.
Challenge #1: Thinking that Everyone is a Prospect.
If Apple's recent release of anti-distraction software tells us anything, it's that our society has serious FOMO—fear of missing out. This mentality is similar to scarcity mentality in that it drives our desire for more interactions, more engagement, even of lower quality.
Translate this to trade show marketing, and we see that scarcity mentality ultimately drives exhibitors to aim for as many prospects as possible out of fear that one might be missed. As referenced in our previous blog post however, lack of specificity in identifying high quality prospects will likely result in a worthless or smaller catch.
When you picture a trade show, you might imagine a sea of people. The challenge for us as exhibitors, sponsors, hospitality hosts or even speakers, is that our prospects aren't labeled. At first glance, we can't differentiate between the catfish and the tuna. Whether there a 100, 1,000, 10,000 or even 100,00 participants at the trade show, none of them have a sign on their back that says "Pick me! Pick me! I'm your Prospect!" Unfortunately that sort of device hasn't been created yet. So, we need to devise a way for our prospects to self-identify and make it easy for them to opt-in.
Overcoming Challenge #1: Thinking that Everyone is a Prospect requires focusing your trade show marketing plan on a narrow buyer persona. To even qualify, your buyer must have a need, adequate resources, and a sense of urgency such that your solution is precisely what they are looking for.
In order to build a buyer persona around these attributes, you'll need to develop a profile that clearly identifies the individual and organization you'll be targeting, as well as their unique needs, challenges and primary objectives in terms of what they're looking to accomplish.
In depth buyer personas will not only help you distinguish between high and low quality prospects in the sea of trade show attendees, it will help to inform your marketing strategy for appealing to these individuals. Additionally, as we'll explore in upcoming blog posts, it will help you select which events to attend, avoiding what we refer to as the Lazy Susan approach, or taking advantage of whatever is offered in front of you. 
The first step to fully leveraging a pre-event strategy is overcoming scarcity mentality. In doing this you will reduce your focus on quantity. Instead pursue quality and you will improve your trade show ROI and ensure the most efficient use of your time on the floor. The next step will be to align your call-to-action to your buyer personas, facilitating prospect self-identification.
---
About
MEET (meetroi.com) helps B2B growth companies and pavilion hosts effectively leverage at trade shows and in-person events. MEET's processes help its clients ramp-up sales quickly and maintain a steady stream of high-quality prospects going forward. Contact: Bill Kenney at MEET today for a free trade show participation assessment bill@meetroi.com or +1 (860) 573-4821.