How to leverage every opportunity at SelectUSA
May 21, 2019

For many international companies looking to scale to the U.S. market, SelectUSA is a once in a lifetime opportunity. In our last post, we discussed how to goal-set your SelectUSA strategy plan and design an agenda that reflects your clearly defined priorities.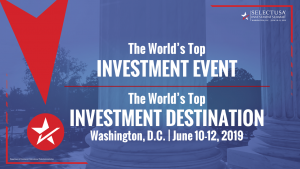 In this post, we'd like to provide a quick overview of the unique features the 2019 SelectUSA Investment Summit has to offer to help ensure you are leveraging every opportunity to maximize ROI.
At the 2018 Summit, we were blown away by the maturity of the companies, the preparation of the various regions, and the resources made available by U.S. government agencies, investors and market-entry thought leaders. With value at every turn, it's critical that scaling companies take time before the event to strategize around who they're aiming to meet and what they're aiming to learn.
Structured Content
The agenda for SelectUSA, i.e. the schedule of events that take place between 8am on June 10th and 4pm on June 12th, is packed with workshops, plenaries, matchmaking and networking events. Workshops cover a variety of topics from fundraising to legal to regulatory issues specific to the U.S. market.
In addition to generalist topics that are likely of interest to all companies planning to scale to the U.S. market, there are a variety of industry-specific opportunities, specifically tech, digital economy, advanced manufacturing, biotech and life sciences, and food and beverage. Beyond supplying uniquely useful content, these sessions are highly useful spaces for networking.
Exhibit Floor
On the exhibit floor, you'll find the majority of all 50 states presenting the value of their region to scaling enterprises. If you're coming to SelectUSA with the express purpose of determining where best to locate in the U.S., this is your prime opportunity to make connections.
Many booths will be staffed by major employers and companies in the region (i.e. major potential customers), as well as economic development professionals who can provide tailored information on their region's strengths and weakness for your particular business or industry.
Besides the states and regions exhibiting, you'll also find a variety of service providers and government agencies that support companies entering the U.S. Whether you're looking for market data or have patent and trademark questions, these representatives are there to supply information, knowledge, and contacts to help facilitate your market entry.
Matchmaking platform
Taping into the SelectUSA Matchmaking platform is one of the best ways to maximize ROI. Through the online system and associated app, attendees can create a portfolio of documents and videos to introduce their company to the rest of the summit.
At a minimum, we recommend uploading an opportunity 1-pager. Here's what we recommend.
The Matchmaking platform is a great way to easily identify yourself and your company. It can also be used to set up meetings, engage in messaging and develop your own customized schedule of workshops and events. Ideally, you'll want to use this schedule to ensure the right mix of content, networking, and one-on-one meetings throughout the event.
Collateral and spin-off events
The full agenda of Collateral Events is available on the Summit website and will continue to grow as the event gets closer. These events are a fun way to gather information about particular regions and build relationships outside of the formal conference environment.
For those who already have a strong inclination for the specific state or region they'd like to scale their company, spin-off events are perhaps just as valuable as the Summit itself. As early as a week before and up until several days after, these events take place on location and provide an opportunity for scaling companies to meet local business leaders and experts, and experience first-hand what the city, state or region has to offer them.
If you're considering multiple regions and it's feasible, try a divide and conquer approach. The opportunity to spend quality time in your priority regions and be received by valuable contacts should not be missed.
MEET and other resources
At MEET, we help international B2B growth companies soft land and scale in the U.S. through trade shows and in-person events. We look forward to SelectUSA all year for the unique opportunity to connect with companies that are seriously looking to grow in the U.S. market and could benefit from our platform of tailored services from strategy to execution.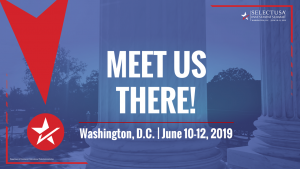 Please stop by and visit us at Booth 224 in the main exhibition space. Also, don't hesitate to connect with us beforehand so we can learn about your objectives for the event and see how we can facilitate connections or provide information that will help you get the most out of the Summit.
We also encourage you to connect with the hosts of SelectUSA with specific questions or connection requests. In our experience, hosts are the most underutilized assets at an event. Having vetted every participant at the Summit, they are your best bet for high-quality references. And because they rarely get asked for this type of information, they're often happy to help.
As we explained in our last post, the key to maximizing ROI at SelectUSA is to arrive with a set of clearly articulated goals and an agenda for how to achieve them.
Like any good trade show strategy plan, this requires putting in a good deal of time before the event even takes place. Developing and uploading a 1-pager on the matchmaking site, reaching out to event hosts and economic development officers from regions of interest, and mapping out your priority workshops are just a few great ways to transform your goals into an action plan.
Everyone who comes to SelectUSA is aiming to achieve something different. The trick is to find value in every available minute. We hope this quick overview of all that SelectUSA has to offer will get you started.
---
About
MEET (meetroi.com) helps international B2B growth companies soft land and scale in the U.S. through trade shows and in-person events. MEET's processes help its clients ramp-up sales quickly and maintain a steady stream of high-quality prospects going forward.  Contact Bill Kenney for a free, no-obligation consultation bill@meetroi.com or +1 (860) 573-4821.