Create Trade Show Strategy ROI for the Greater Good
September 11, 2018

As a pavilion host, your exhibitors are a reflection of you. The better they perform, the better your pavilion will perform overall. Not only because exhibitors are generating sales, but because their positive performance reflects well on your region, making it more attractive to businesses that are looking to open new offices, find new suppliers, or build new manufacturing facilities.
In our webinar on Pavilion Pitfalls, we talk about trade show strategy ROI and how to ensure that client companies or exhibitors are both high performing and highly invested in the pavilion. At MEET, we recommend a co-investment and training strategy that not only raises the bar for exhibitor performance but offers capacity building resources that raise the tide for all boats.
A common complaint we hear from pavilion hosts is that it's hard to find enough enthusiastic exhibitors to fill all the booths. As the event approaches, hosts find they need to cut prices in order to fill slots or even give booths away for free just to fill them.
One way to ensure that exhibitors are invested in the pavilion is to promote it as a cooperative marketing opportunity. Not only is the cost to participate in a pavilion booth significantly less than exhibitors would have to pay for an independent booth, the leverage and promotion capabilities represent unrivaled added value. Similar to the envelope you receive in the mail containing many different store coupons, cooperative marketing offers a less expensive, less risky trade show strategy ROI.
Beyond how you promote the booth to exhibitors, pavilion hosts can use a number of co-investment strategies to help guarantee high performance. Here are three co-investment techniques to consider:
Direct cash investment
The more (and we want to emphasize that more is better) that exhibitors are willing to pay for a booth, the more value they are likely to derive from it. Assigning a high price to join the pavilion sends a message about the value of the event. Setting a low price has a similarly negative effect.
2. Minimum standards
Setting a minimum standard for participation in the booth sends an important message about expectations and sets a performance threshold that exhibitors can use for goal setting. By joining a pavilion, exhibitors are representing themselves as well as the region or industry. As such, they need to perform at a much higher level. Their ability to meet some of these minimum standards in advance can help to enable their acceptance as a pavilion exhibitor. Meeting all minimum standards be used to determine future participation.
3. Post-event reporting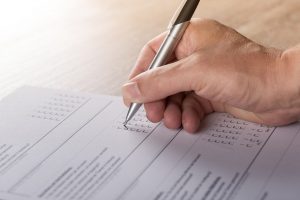 Creating accountability through post-event reporting is fundamental to trade show strategy ROI. Ways to incentivize this may be through a money-back scheme whereby exhibitors who complete all required training, meet minimum standards and submit post-event reporting receive a rebate on their investment.
There's no one size fits all; figuring out what works best for your participants is key.  The MEET team spends a lot of time strategizing with its clients to customize the pavilion exhibitor system, optimizing the approach for specific audiences and goals.
Finally, there's capacity building through training.  Offering a comprehensive training that sets expectations for exhibiting teams will boost performance on an individual booth level and for your region as the pavilion puts out a more energized and synchronized vibe. Sample topics include pre-setting appointments, the role of the sales and booth teams, networking, and how to support peer exhibitors, in addition to basic ground rules such as dress codes and cell phone use.
When pavilion hosts employ trade show strategy ROI that is focused on investing in and building the capacity of exhibitors, everyone wins.  That is a greater good.
---
About
MEET (meetroi.com) helps B2B growth companies and pavilion hosts effectively leverage at trade shows and in-person events. MEET's processes help its clients ramp-up sales quickly and maintain a steady stream of high-quality prospects going forward. Contact Bill Kenney at MEET today for a free trade show participation assessment bill@meetroi.com or +1 (860) 573-4821.