The power of a well-aligned trade show strategy plan
November 1, 2018

In our recent post, we talked about the importance of goal setting and testing when preparing a trade show strategy plan for U.S. expansion. In essence, carefully crafted buyer personas based on frequently tested hypotheses allow you to build vital knowledge about how to scale your company.
But how do you bring this knowledge to life in all aspects of your trade show strategy plan?
The answer: alignment. Aligning your communications and marketing materials—essentially anything that is prospect facing—to your buyer persona, will ensure your trade consultation strategy is not only effective but highly responsive to new information.
In our experience, companies that have difficulty identifying their buyer personas have an even more difficult time verifying that their marketing materials, booth training protocols, and verbal communications strategy are effectively targeting the right customers.  Furthermore, they don't know how to adapt when new information about their customers becomes available.
4 steps to aligning your trade show strategy plan
Once you have your buyer persona:
Identify local events and associations that appeal to your target persona and become an active participant.  You'll find within almost every industry and discipline a wide array of trade associations and organizations facilitating monthly meetings for you to attend at very little cost.
Ensure that all your marketing materials (your offer, call to action, and value proposition) speak directly to the urgent needs of your target buyer persona. (Check out our post: Your Trade Show Business Strategy Starts with a Need for more on this)
Develop lead nurturing resources that are of unique interest to them. Things like webinars, assessments or white papers that you can promote through a well-crafted, succinct offer will draw your buyer persona from heightened awareness, to trust, to conversion.
Devote resources to a robust follow-up plan. A well-aligned offer will help to moderate the flow of qualified prospects and ensure that a well-resourced follow-up strategy is cost-effective.
The importance of a localized communication strategy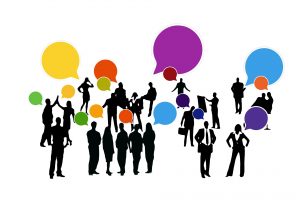 The U.S. market is large and diverse. In this context, it is not enough for your communications and marketing materials to be buyer persona focused at a national level.
A U.S. trade show consultation strategy must take into account local, regional, and industry-specific differences and reflect this awareness through written, verbal and non-verbal (how one presents) communications.
For those operating from abroad, this may require staffing events with a U.S.-based team or those highly familiar with U.S. customs and regional accents/language differences. A well-aligned trade show strategy plan has the ability to drill down to this level.
Companies that are able to clearly identify their ideal customers and how to reach them are well above the fray. Translating this knowledge into an actionable trade show strategy plan is what truly distinguishes them from the rest. Alignment is the critical first step.
---
About
MEET (meetroi.com) helps B2B growth companies and pavilion hosts effectively leverage at trade shows and in-person events. MEET's processes help its clients ramp-up sales quickly and maintain a steady stream of high-quality prospects going forward. Contact Bill Kenney at MEET today for a free trade show participation assessment bill@meetroi.com or +1 (860) 573-4821.