Steps to Ensuring High-quality Conversation at Trade Shows
September 9, 2019
High-quality conversations at trade shows and in-person events are like buried treasure. It's rare that you stumble upon them. It is worth every investment of time and resources to evolve a map to ensure that you find them.
First, let's define high-quality.
High-quality conversations deliver value—whether in potential customers, partnerships or referrals. They represent the unique and unparalleled benefit to trade shows and in-person events in that by nature they deliver greater returns than other marketing strategies. As your event selection improves the pool of possible people to meet improves.
They also require work. Devising an annual trade show strategy plan (which includes careful show selection and marketing practices) serves as a map. The next step is to uncover the best route.
For more on how to build an annual trade show strategy plan, check out our Special Report: How to Maximize ROI with a Trade Show Strategy Plan, or reach out to us today.
Key steps to seeking out high-quality conversations
Trade shows are finite opportunities. Just like fruit at the market, they are perishable opportunities. You'll never get this same mix of people with the same mix of needs in one room again. Taking the steps to ensure that your time and resources are used efficiently to maximize ROI is critical. Here's what we recommend:
1. Stay focused 
Know your targets before walking into an event.
Having specific targets in mind—companies or people, industries or types of professionals, helps to ensure that you are making the most of the time and resources you have committed to being there. Know who you want to meet by name or discipline.
2. Be prepared
While some events use nametags, the vast majority do not. We recommend doing your pre-event homework by researching attendee lists. If you've participated in this event in the past, take the time to review your database for insights.
We also recommend scheduling meet-ups with your highest priority targets before the event. Once you have those meetings in place, fill the rest of your schedule with key opportunities (e.g. speaking and networking events) where you anticipate similar personas will be in attendance.
3. Leverage all available resources
With 75+ years of trade show and in-person event experience, we've learned that one of the least utilized resources are the hosts themselves. Not only are hosts well aware of attendee demographics, but they also have a vested interest in your satisfaction and success at the event.
Whether you contact your hosts ahead of time or as soon as you arrive, it's helpful to inform them of whom you're aiming to meet at the event (whether it's by industry, geography, or name) and request introductions.
Having a trusted third-party help you facilitate introductions can help to immediately break the ice and build rapport with target prospects and partners.
Don't be afraid to leave the booth. Devising a divide and conquer staffing approach will help to ensure that you are maximizing all your available resources so that everyone on your event team is fully leveraged.
Unlocking the greatest value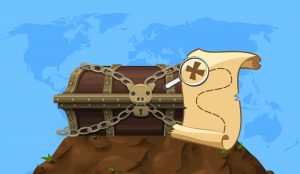 You've managed to find the treasure, which is great! Now how do you make sure you've got the right set of keys to unlock it?
The key to unlocking high-value conversations at trade shows and in-person events is having a list of good, thoughtful questions. While a scripted self-introduction is important, it's not what you say but what you learn that drives strong connections.
For more on the value of good conversation skills and specific questions to ask potential prospects and partners, check out this post.
The beauty of using an inquiry-based approach is that it puts you in a position of power to determine whether someone is truly a resource or prospect. By uncovering someone's top three priorities, you will easily be able to identify whether or not they are a good partner or prospect, as opposed to relying on their own self-assessment and potentially misinformed impression of your services.
Treasure abounds at trade shows and in-person events. It's why we've chosen to make them the focus of our work. But showing up is only half the battle. Taking the steps to uncover and unlock these rewards requires planning and preparation. Fortunately, help is out there.
For more on this topic of strategic engagement at trade shows, check out our recent webinar: How to Start Conversations and Identify Opportunities at Events. To check out all of MEET's webinar content on how to successfully scale your company in the U.S. market, subscribe to our YouTube Channel.
---
About
MEET (meetroi.com) helps international B2B growth companies soft-land and scale in the U.S. through trade shows and in-person events. MEET's processes help its clients ramp-up sales quickly and maintain a steady stream of high-quality prospects going forward.  Contact Bill Kenney for a no-obligation conversation: bill@meetroi.com or +1 (860) 573-4821.