Pillar Section 7: Designing an Effective Trade Show Follow-up Strategy
Designing an Effective Trade Show Follow-up Strategy
Congratulations! You've executed a killer trade show event strategy and maximized ROI at every turn. That means you arrived with:
Clearly identified buyer personas, which ensured you selected the best events
An offer and booth display that enabled qualified prospects to opt-into your lead nurturing and sales funnel
A staffing strategy that leveraged your team's skill sets and set them up for successful follow-up
Now it's time to explore how to translate all this hard work into results. The first step is devising an effective trade show follow-up strategy which, believe it or not, is something you should be thinking before the event even takes place.
Effective Follow-up Begins with Proper Staffing
If we haven't already convinced you of the power of a well-crafted offer and the importance of placing sales people outside your booth, then perhaps our discussion of effective follow-up will.
We find that salespeople are often the biggest anti-sponsors of trade shows. This is because in the face of a poorly selected offer, they are forced to engage all day and sometimes all week with people who are not prospects. They are performing a job that is better suited for transaction professionals.
Upon returning to the office with a stack of business cards, salespeople quickly realize they've wasted their time. These individuals are simply not interested in what they have to sell. Additionally, because the net was cast too wide, they're faced with an insurmountable task of following up with hundreds or even thousands of contacts.
We often say that the prospects you get from a trade show spoil like fruit. Even the most perfect apple will turn mealy if not consumed in time. Proper staffing (in conjunction with the right offer) will ensure that upon returning from a trade show event, sales people are tasked with performing fewer follow-up calls that yield better results. In other words, a happier and more productive sales team.
Activating Your Follow-up Strategy During the Event
Effective follow-up is about making sure you've collected all the information you need to activate immediately following an event. There are many different strategies for how to do this; our staff uses a simple coding system.
A code is notated on the back of each business card received indicating whether someone is a customer, prospect, staff candidate or partner, and a score of 1, 2, or 3. Because card exchanges usually take place at the end of a conversation, these notes are made immediately along with a short reference to what was discussed.
1 = High priority. Follow-up occurs while still at the show.
2 = Medium priority. Follow-up occurs immediately following the show.
3 = Low priority. Follow-up occurs over time, but not immediately.
Remember: time kills all deals. People often give prospects a few days thinking they need time to get settled after a show. If you really believe in your product or service, don't be the 10th person to contact your prospect—be the first.
For more on how to activate your follow-up strategy during the trade show event, check out this post.
Drawing Prospects into Your Post-Event Marketing Funnel
Measuring the effectiveness of your sales team's follow-up should in part be measured by their ability to gain prospects' trust and secure a future meeting. (See our next section for more on how to measure the success of your sales and marketing teams).
At MEET, we work to ensure that our clients have a strong methodology for nurturing, converting, and tracking prospects in the post-trade show marketing period. One tool we use is the Marketing Funnel. Like a sales funnel or buying process that customers are led through when purchasing products or services, a Marketing Funnel is focused on how to identify and capture high-quality leads and nurture them to the sales process.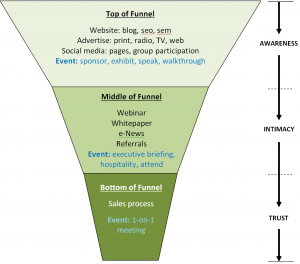 The purpose of the marketing funnel is to illustrate the different types of marketing that might be used at different stages of your relationship with a prospect. You'll also see that we've inserted where different types of event participation could be best leveraged.
Through exposure to these marketing modes, your prospect will move down the funnel from awareness to intimacy with your services. Through executive briefings, hospitality events, regular association event attendance, webinars, whitepapers, e-news briefs, prospects move from intimacy to trust. When prospects trust you, they are ready to agree to a meeting to discuss and be candid about their needs. At the point of 1-on-1 meeting agreement, the prospect transitions from the marketing to the sales funnel.
Returning from a trade show doesn't have to be exhausting. Depositing your prospects into a marketing funnel that immediately engages them through pre-drafted follow-up emails, an attendee survey, or scheduled webinars will ensure that every trade show marketing minute was time well spent.
For more on how to implement MEET's marketing funnel in your post-event marketing and follow-up strategy, check out this post, or email us today.
---
About
MEET (meetroi.com) helps international B2B growth companies soft land and scale in the U.S. through trade shows and in-person events. MEET's processes help its clients ramp-up sales quickly and maintain a steady stream of high-quality prospects going forward.  Contact Bill Kenney for a free, no-obligation consultation bill@meetroi.com or +1 (860) 573-4821.