Nailing the Follow-up
June 20, 2019

Devising a follow-up plan before you leave for an event is the best way to maximize ROI, plain and simple. At MEET, we specialize in devising strategies to get the most out of every event for our clients. Here's a peek at how we do it.
Prioritizing contacts
At high-value events like SelectUSA, almost every interaction will be worth remembering. We find card marking a helpful way of immediately prioritizing each interaction for follow-up.
There is neither time nor space to write extensive notes about a conversation on a business card. The three most relevant pieces of information are: who on the team should follow up, what is their relevance to your company, and where do they fall in terms of priority.
We use the following code:
Initials for team member responsible for follow-up

Relevance

P = prospect
R = resource
T = potential team member
Speed of Follow-up

1 = hot, same day
2 = moderate, 2-3 days
3 = not critical
For those deemed not critical to follow-up with, you may decide to enroll them in your relationship or lead nurturing system. This will enable them to receive your communication and be in contact should an urgent need arise.
Whether you have a card scanner back at the office or use a Google Docs system, it's important to have a plan in place that allows you and your team to execute on these valuable and perishable opportunities in a timely way.
Set follow-up dates in person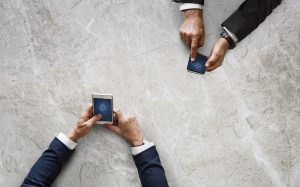 There's no time like the present to schedule a follow-up meeting with a high priority contact. With smart devices allowing us to carry our calendars at all times, don't be shy to set a time to speak again before leaving the interaction.
Asking someone in person to continue the conversation at a later time during the event or in the days following is an efficient way to guarantee effective follow-up with high priority contacts.
For everyone else, don't wait
Whenever we go to trade shows we hear people say they're going to wait a few days to follow-up, give the person a chance to catch up, recover from traveling, etc.
With 75+ years of event participation and management experience, we have never heard anyone complain about somebody following up too quickly.
Most marketing dollars are spent with the hopes of someday getting face-to-face with target prospects. Prospects are defined as those with a NEED, the RESOURCES to fulfill that need, and URGENCY for a solution. Think NEED, MONEY, NOW!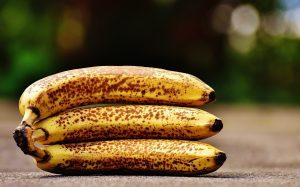 If someone is urgent for a solution, then the longer you wait to follow up with them the more likely it is that they're going to find someone else to solve their problem. Like a piece of fruit, true prospects have a short shelf-life—one or two days before rotting.
Make sure that your follow-up speed corresponds to the importance of the lead. The longer you wait, the worse that fruit is going to taste.
Nurture the relationship
Once you have followed up with someone, they should be entered into some kind of lead nurturing system that serves as a mechanism for communicating to your community. In some cases, you may have different types of communication that you use depending on whether someone is a prospect, investor, mentor, partner, etc.
The relevance of this person to your company should dictate the type of communication they receive.
Nurturing your relationships through an ongoing communication loop helps to build awareness and stay connected should future opportunities arise.
Looking for ideas on content to share with your contacts? We can help.
We hope you've enjoyed our webinar series on how to leverage your time and resources at SelectUSA. For those who are not planning to attend this year, we believe these are great tips for any high-value opportunity.
For those who are attending, we can't wait to see you there!
---
About
MEET (meetroi.com) helps international B2B growth companies soft land and scale in the U.S. through trade shows and in-person events. MEET's processes help its clients ramp-up sales quickly and maintain a steady stream of high-quality prospects going forward.  Contact Bill Kenney for a no obligation conversation bill@meetroi.com or +1 (860) 573-4821.