Meeting Customer Expectations: Lessons from Market Research
July 22, 2019

Understanding and successfully meeting customer expectations in your target market is the number one challenge for any business. Scaling to a foreign market acts as a multiplier for that challenge. That's where investments in market research and rapid testing can make a big difference.

On June 25th we spoke with Michael Vigeant, CEO of GreatBlue Research in a webinar titled What You Don't Know Can Kill Your Business: Nailing Market Research for U.S. Market Entry, where we explored best practices for meeting expectations in the U.S. market.
Understanding customer expectations in the U.S. market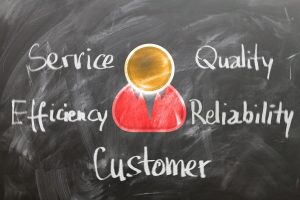 Before worrying too much about small, regional differences within the U.S., it's important that you meet a set of overarching expectations that Americans have as consumers—whether it's B2B or B2C.
Michael shared that when it comes to general expectations within the U.S., "we see the desire to feel valued and to know that a company is part of their community and giving back philanthropically."
Michael also shared the importance of cultural sensitivity—whether it's U.S. companies going overseas or vice versa. "We need to be mindful of the cultures we are servicing. It should be clear to customers that you respect their culture by how well you treat them, service their needs, and solve their problems."
The last feature of the U.S. market that Michael highlighted was the importance of value. Regardless of whether you have a high or low-cost product or service, U.S. consumers want to know they are getting value for their purchase.
"If I'm spending more, I have higher expectations. And I'm willing to pay more if I know you understand my expectations as your customer and are able to deliver on them."
How well does messaging translate overseas?
As a company that helps international B2B growth companies soft land and scale in the U.S. through trade shows and in-person events, messaging is something we're particularly focused on. At MEET, we believe that a well-crafted call to action, set within a broader strategy, translates directly into ROI for scaling firms.
As an expert in market research, we asked Michael what he sees as the key features of a well-adapted message for firms entering a foreign market like the U.S., and what are the best practices for getting there.
Michael started by identifying two variables to successful message transfer.
The first is how well your company is able to effectively relate the features and benefits you deliver to your customers, and how well you fulfill their expectations based on expressed needs. The second has to do with the frequency of communication and how that message is delivered.
"We see cases where international messaging is particularly effective because it's different enough to catch attention. We also see cases, even internal to the U.S. market, where messaging that used to work for one market suddenly stops working."
As far as a best practice, Michael suggested testing with small groups of your target audience to get the best possible data. Being fans of rapid A/B testing as a way to ensure successful market entry, we liked this answer.
"The beauty of A/B testing is that it's low cost—it doesn't have to be a huge budget item. Try bringing together small groups of your target audience to ask them how your messaging makes them feel, whether it gives them a positive impression about your organization and the confidence to make a commitment."
The costs of making a mistake are significantly higher than investing in the research to get it right the first time.
Keeping it short, sweet and on demand
With 75+ years of trade show and event experience, we've been blown away by the number of people who attempt to connect with their target market by overwhelming them with information. At MEET, we refer to the billboard rule of thumb when designing messaging for our clients.
Michael agreed. "Think back to the first text-heavy websites—they were basically books on screen! There was no dynamic visualization."
"With so much competition today, people are constantly bombarded with communication. They don't have time for long marketing messages. The goal is to capture your audience with a trigger of some sort that prompts them to opt in—to say: "yes, I want to learn more."
Particularly in trade show scenarios, folks are walking down the aisle looking for answers to their problems. If they can't find it quickly, they're moving on to the next booth.
Clean banners, simple messaging for fast and easy digestion, these tips apply to written, visual and audio messaging. From a content standpoint, letting folks know who you are, what you do and how you can help in a manner that's short and sweet will deliver your best results.
Consistently meeting customer expectations down the line requires some investment.
For access to our entire interview Michael Vigeant, CEO of Greatblue Research, check out this link. To check out all of MEET's webinar content on how to successfully scale your company in the U.S. market through trade shows and in-person events, subscribe to our YouTube Channel.
---
About
MEET (meetroi.com) helps international B2B growth companies soft land and scale in the U.S. through trade shows and in-person events. MEET's processes help its clients ramp-up sales quickly and maintain a steady stream of high-quality prospects going forward.  Contact Bill Kenney for a no obligation conversation: bill@meetroi.com or +1 (860) 573-4821